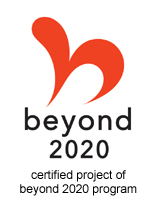 World Peace Prayer at Temple on April 3rd, 2020
KIGO held by Japanese calligraphers

We will be waiting to meet you at KIGO sites, to pray for world peace with all of you.
Administration fee is free./ No advanced reservation is required.
Organization: WA Project TAISHI


About us
"WA Project TAISHI" is a volunteer-based non-profitable organization to achieve peace throughout the world by introducing Japanese traditional culture both at home and abroad.

What is KIGO?
Sekijyo-KIGO, commonly known as "Calligraphy Performance" performed by a Calligrapher in front of an audience is a traditional Japanese Spiritual Culture similar to Zen. When the calligrapher writes a word, phrase or wish chosen from their heart on a large paper, the audience's attention gathers towards the Calligrapher's appearance and the tip of their brush. Just like a conductor in an orchestra putting together a symphony, a Calligrapher makes everyone's feelings come together, which strengthens the feelings of prayer. This times opportunity will make everyone's mind look towards world peace, harmony of the world, and the tolerance of spirit. A Calligrapher wearing Kimono will write a message of world peace and Wa Spirit.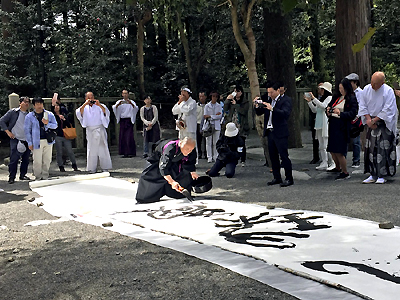 < MOVIE >

Japanese Buddhism and Prince Shotoku (Shotoku Taishi)
Buddhism was introduced to Japan in 538 A.D.
A legend says Prince Shotoku who established the basis of Japan as a nation spread its teaching 1400 years ago. Since then the Japanese people have had a syncretic relationship between Buddhism and Shintoism.
Shintoism holds a kind of belief that all creatures including non-living materials have their own spirits as well as incorporating animism similar to other ancient shamanistic belief system of the world. Therefore people in Japan have also been very tolerant and respectful to spirits of the other religions.
There are some good examples. First, we can see some Buddha statues in Shinto shrines, shrine gates in Buddhist temples, and also surprisingly Jesus or Virgin Mary statues devoted by Japanese immigrants in Shinto shrines in Brazil.

However, 150 years ago, when a new government completed Meiji Restoration, people became more nationalistic, and a good old mixture between Buddhism and Shintoism totally collapsed and separated. The government tried to make Shintoism a state religion, and on the other hand, Buddhism and Buddhist temples were rejected by the government.
After World War Ⅱ, the Japanese government completely rejected state religion, and Shintoism has returned to its syncretic.

Now, most people visit shrines to pray for happiness in new year days and temples to pray for their ancestors in August, and celebrate Christmas in December. It is quite unique or strange for people in the world but not for Japanese.

Japanese culture consists of tolerance which is called "WA Spirit" established by Prince Shotoku. People always try to acquire good points from the other religions or cultures rather than just keeping tradition or original beliefs. This particular aspect is the most important point of Japanese culture.

April 3rd is the date when Prince Shotoku established The Seventeen Article Constitution based on " WA Spirit."
There are mainly 13 sects in Japanese Buddhism now. They are mostly the same but different in some parts. This great calligraphy show is to pray for world peace with many sects of Japanese Buddhist temples simultaneously.



© WA Project TAISHI. All Rights Reserved.